Litter Urlaur Abbey
LITTERING AT MAYO BEAUTY SPOT IS "DISRESPECTFUL AND APPALLING"
SATURDAY, MAY 30, 2020 – Mayo News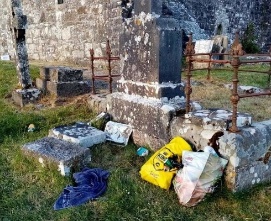 A local councillor has described the littering at Urlaur Lake in East Mayo as "blatant disrespect to both the living and the dead."
Pictures emerged on social media on Friday evening of empty bottles and cans, bags full of rubbish and other bits of debris discarded around the Abbey, the adjoining cemetery and the lake's shoreline.
Sarah Grennan, who posted the pictures to Facebook, commented: "What an absolute shame and disgrace it is to walk to our local lake and graveyard and see the state it has been left in!"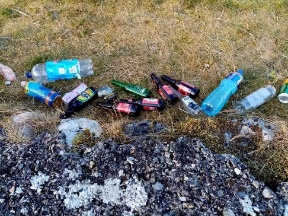 Kilkelly-based Fianna Fail councillor John Caulfied said that he had been made aware of the problem and asked those responsible to have more respect for the area.
"This is a cemetery, but it's also a tourist attraction," he said. "You have youngsters going down there holding drinking parties in it and disposing of their cans and bottles with no regard for the area."
The lake is also the source of drinking water for the local area under the Kilmovee/Urlaur Group Water Scheme.
"I'm going to see if bins can be put there, although if we do that, we're almost encouraging drinking parties. What's the answer to it? I don't know, other than to put up more No Dumping signs," continued Cllr Caulfield.
The Gardaí have been made aware of the issue and are understood to have visited the lake to break-up the so-called 'drinking parties' during this week's good weather.
Cllr Caulfield also highlighted the risk of drowning or other serious injuries while people are consuming alcohol near open water.
"I'm appalled at it really. I'd ask people not to do it in the future. There's a danger as well with people drinking in those locations – it's beside the lake, it's high risk."
The historic Abbey, which traces its roots back to a monastic settlement founded in 1430 by Dominicans monks, has traditionally been one of the most popular local visiting spots for families during the summer.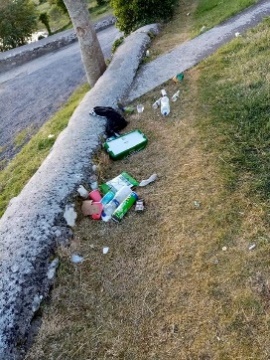 However, concerns have been expressed that anti-social behaviour and flagrant littering may deter many East Mayo residents from visiting the Abbey and the lake going forward. Cllr Caulfield said the issue of littering and dumping has become more prevalent around the county generally in recent months.
"Littering is widespread at the moment and there's a power of dumping being done through the lockdown. Stuff has been dumped all over the place. It's an absolute disgrace and it will have to be addressed," he said.
People and places 5th August 2015 Michael Commins – Mayo News The Annual Urlaur Pattern was held in the small east Mayo village that shares a border with nearby Roscommon yesterday (Monday). Once again, the small village was the focus of a lot of activity as the locals maintained a tradition stretching back through time. In the news pages of last week's issue, we featured a story about the Roscommon connection with Urlaur and some memories from over the years. Martin Walshe from nearby Erritt, on the Roscommon side, spoke about his memories of Urlaur and the closeness of the communities. Due to space restrictions, some parts of Martin's reminiscences were omitted, including some mentions for those who were central to his acquaintances with Urlaur. This week, we feature the memories omitted from last week's news article. Rest assured, people of Urlaur, Martin did not forget ye! "I got to know a lot of people in Urlaur through the music and the Kilmovee All Rounders and the late Michael McDermott. People like Frank Keane and Paddy Moran and all their families, and Michael Regan and the late Jim Meehan from Kilmovee as well, and also Seamus and Mary Waldron, Tullyganny. "I would know the Hunts well too, Dominick and Michael and their sisters, as they used to come back and cut their turf in the bog in Derrynea which is beside our village. The late Tommy Coyne from Urlaur who died a few weeks ago, used to cut turf there too. We were very friendly with both families. "I knew the late Gerald Nyland and his wife Kitty and family very well too, a brother-in-law of Tommy Coyne, a lovely gentleman and we were very great down through the years. He was very much involved in everything in Urlaur. So is Seamus Gallagher down the road in Aughadeffin. They were a lovely family. There's also Seamus and Mary Waldron, Tullyganny, and Michael Collins and family. I knew the Kenny family very well in Post Office, now sadly closed. "The late Jimmy Horan would have relations in our county over in Cloonmullin near Loughglynn. He was a mighty man for the Pattern. Tommy Kenny and Marie Sharkey from beside the Abbey are great historians and have a wealth of knowledge on the Abbey and its history. "I recall a story I heard years ago about a huge thunderstorm coming across the lake when the Pattern Mass was being celebrated and the priest was supposed to have used his powers and the storm stayed away and did not arrive until after the Mass and the sports were well over. "Michael McDermott was a very close friend of mine and I am delighted that the people of Urlaur are keeping his memory alive by having a perpetual trophy every year in his memory. Michael was a huge loss to Urlaur and Kilmovee and the wider community," says Martin, while reeling in the years.